The 40th Regular concert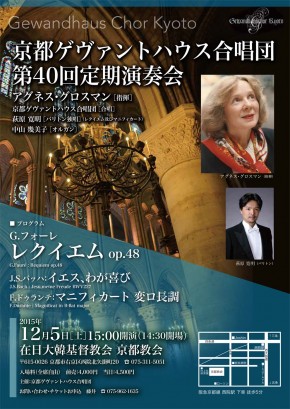 The 40th regular concert
December 5, 2015 Curtain time: 15:00 ( 14:30 doors open )
Japan Korean Christian Association Kyoto Church ( 5-minute walk from Saiin Station Hankyu line )
Admission: Advance : 4000 yen / on the day : 4500 yen
Kyoto Gewandhauschor's Christmas concert
Kyoto Gewandhaus Choir Christmas concert
Playing Date: December 13, 2014 (Sat)
Concert hall: Saiin Kyoto church
Renewed Kyoto Gewandhauschoir website.
was renewed Kyoto Gewandhauschoir website was renewed .
In this renewal, we are aiming to easy access to visible articlewebsite more.
With the renewal, so we have changed from the previous URL (http://www.geocities.jp/sn1003sn/kyotogewant.html), please change your bookmark to the following URL.
New URL 
http://kyotogewandhauschor.com/

In the future, we will enhance our content, so we will continue to announce amore easy-to-understand information, thank you.