Pick Up Article
2015/09/25 - information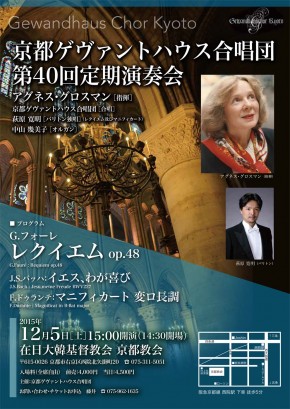 The 40th regular concert
December 5, 2015 Curtain time: 15:00 ( 14:30 doors open )
Japan Korean Christian Association Kyoto Church ( 5-minute walk from Saiin Station Hankyu line )
Admission: Advance : 4000 yen / on the day : 4500 yen
About Kyoto Gewandhaus Choir
In 1977, By Prof. Hayashi and 40 of members who received music professional education by him, Kyoto Gewandhauschor was established. Kyoto Gewandhauschor was named after Kyoto Nishijin (Textile) Hall which is a Sponsorship organization.
They earned a firm reputation for success of regular concert and several overseas concert tour.They has had remarkable success like a playing "German Requiem" in 2003 at Tokyo Sumida Triphony Hall. Tatsuji Hayashi, the founder and conductor of the Kyoto Gewandhaus Choir, has gone to his final rest on 6th December in 2003.
The Kyoto Gewandhaus Choir continues its musical mission with regular annual concerts under the direction of Agnes Grossmann who is the daughter of Ferdinand Grossmann.In May 2004 the choir together with Camerata Vocale performed the "German Requiem" under conductor Etta Hilsberg at the Berliner Philharmonie. The Kyoto Gewandhaus Choir was awarded the Osaka Prefecture Theater Prize and the Encouragement Prize of the Osaka Cultural Festival. (This sentence appears twice: see above) Prof. Hayashi's musical vision lives on in the Kyoto Gewandhaus Choir and continues to develop and flourish.